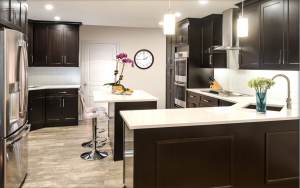 If you are looking to remodel your kitchen or bathroom or are building a new home, it is likely that you are exploring potential countertop options. However, many places will try to sell you countertops at high prices, making them unaffordable for the normal homeowner.
At Save-on-Cabinets, we take a different approach – we offer you high-quality, modern, trendy countertop options at affordable prices that suit almost any budget. Plus, you can easily match your countertops to your cabinets when you purchase them both through us!
Select the Perfect Countertops
We offer a variety of styles of beautiful countertops to suit your personality, your taste and your needs. Some of the countertops we offer include:
Quartz: Stone countertops are long-lasting and timeless in their style. When cared for properly, quartz countertops can offer you a similar look to marble with a much higher durability and a huge selection of colors and patterns to choose from. They are perfect for kitchens and bathrooms that get a lot of use.
Granite: Another type of stone countertop, granite countertops, features rich natural veining and other unique characteristics that make them an eye-catching addition to any kitchen or bathroom. If you are looking for a truly unique vanity, a granite countertop may be the best choice for you, as no two pieces are truly the same. They also come in a wide variety of colors, and are durable and long-lasting.
Laminate: Laminate countertops are an excellent option if you have unusually shaped counter spaces or are looking for something that's water- and heat-resistant. Laminate countertops can also mimic the styles of granite, quartz or concrete countertops while being a more affordable option, and are very popular for kitchen counters due to the ability to create a seamless look with your sink or backsplash.
And other choices! We have a large selection of countertops available in our showroom, and our experts would be happy to show you the available choices.
Explore Your Options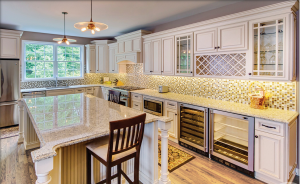 Our number one goal at Save-on-Cabinets is to help you find countertops you are happy with at a price you can afford. Since 2011, we have been helping clients like you design their dream kitchens and bathrooms at a fraction of the cost of traditional cabinet and countertop suppliers.
Whether you have a solid vision in mind for your kitchen or bathroom cabinets and countertops vanities or you just want to explore your options, you can visit our showroom from Monday – Friday, 9:00 AM – 5:00 PM, or stop by on Saturday from 9:00 AM – 2:00 PM. Our professional staff will take the time to sit with you and discuss your vision, your options and your budget, so that we can hopefully match you with the perfect countertop for your home.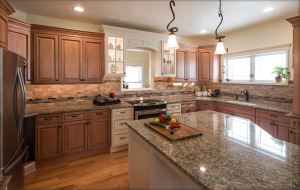 Most of our deliveries can be made in as few as three to four days. If you have received a quote from a competitor for your countertops, bring it to us and we'll do our best to match or even beat the price!
You will love our great selection and truly affordable prices, letting you have a stunning, high-quality kitchen or bathroom without totally breaking your budget.
Visit us today and see what we can do for you!